The Fall and Rise of Acacia Grove
After the death of Charles Prescott, Acacia Grove had a series of owners. The once grand home eventually fell into disrepair and, were it not for the efforts of an invested benefactor, might have been lost forever. That benefactor had a special interest in the old home. To her it was more than a beautiful old building, it was alive with nostalgia. A part of the family. She was Charles Prescott's great-granddaughter, Mary Allison Prescott.
Miss Mary Allison Prescott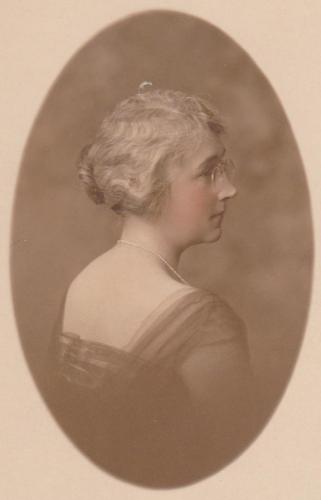 Ms. Prescott's Career
She was born in 1879 in Baie Verte, New Brunswick, 20 years after the passing of her great-grandfather. She was one of six children with two older brothers, Charles and William and her younger siblings Agnes, Louise, and Joseph. 
Though information on her early life is scarce, in 1902 she entered the Royal Victoria Nursing School in Montreal, graduating in 1905. At the age of 26, she began her nursing career at the Royal Victoria Hospital, or "Royal Vic". 
In 1915, Mary left the hospital partly to look after her sister Agnes, who had been receiving treatment at Laurentian Chest Hospital in Ste. Agathe, Quebec. The following year, Mary resumed work at the Royal Victoria Hospital as Nursing Supervisor of the newly built Ross Memorial Pavilion.
Homecoming
By 1922, Mary left the hospital to become a nurse/housekeeper to Mr. and Mrs. McLennan in Loretteville, Quebec. With them she journeyed to Europe many times. It was several years later, in 1930, that she returned to Nova Scotia with her aunts after a trip to St. John, NB. On the way to Halifax, she asked to stop by her grandfather's old house before it was gone. She wrote:
"I went all over it.  In the dining room a dead bird was lying by the fireplace and a bird's nest in the corner of the room.  The former library had been used by some of the tenants as a kitchen and the room was in a shocking condition, the fireplace closed up and a rickety old stove put in its place.  In one corner of the room was an old cupboard and in another a kitchen sink on three legs.  The mantel piece was riddled with large nails and hooks, the ceiling had fallen and the floor was all stopped up.  Nearly every window in the room was broken and everything was dirty with flies and spider webs everywhere.  What had originally been the pantry was even worse.  A huge cupboard built all along one side which must have been there since the house was built.  The basement floor had been taken up and burned, I suppose, and the stairs leading to it in a wretched condition.  Everything looked as if it had received worst of usage but I felt as I looked it over it had great possibilities.  I bought the knocker from the owner of the house paying $10 for it. We then returned the key and proceeded to Halifax. I said to the other passengers in the car "I would buy that house if I could get it for $2000".
The Savior of Acacia Grove
Mary ended up putting in an offer and by 1931 she was the owner of the house and its 2-3 acres of land for $1850.00 (about $31,000 CDN in 2020). She hired a contractor to oversee improvements and renovations and over four years installed heating, electricity and plumbing. The entire house was painted from the basement to the attic, a hardwood floor and bookcases installed in the library, and the grounds outside cleaned up. 
During those four years she and her sister Agnes gathered furnishings for the house. Some were given to her, like the welsh dresser in the Front Hall, some were purchased, like the Queen Anne style chairs in the Dining Room, and others were inherited, like the collection of Davenport botanical plates and serving dishes. Agnes was instrumental in purchasing and making sure the furnishings arrived safely. By 1935 the house was done and the guest book for "Acacia Grove" was started. 
However, it was far from a comfortable stay that first summer at Acacia Grove.  Mary wrote:
"It began to rain the day I arrived and never let up for a fortnight. This combined with great heat left much to be desired. The furniture which had been sent from Halifax was covered with plaster and paint. The floors were dirty and paint and plaster all over them all. As we had not been able to get electric light we went to bed each night each with a candle – no blinds in any room and no handles on any doors or on the bath room door so that if it were shut tight one had to wait until someone came to let one out.
            The first thing my sister told me was that none of the springs would fit the beds and Mr. Marriott had very kindly nailed boards across the frames to put mattresses on. We tried this one night and found it so hard we could not sleep although I had got Simmonds beauty rest mattresses. The next day I got a carpenter and got an iron saw and he cut off six inches of the spring and made them fit. And oh – what a difference it made!
All the time we were cleaning and trying to get things in ship shape we had very little to eat. Having no ice and with the great heat the bread would get moldy in a day and the butter rancid. The meat too could not be kept more than a day. The butcher and baker had begun to come already. We got our milk from Mrs. Starr who lived next door, but it turned sour in a few hours. No one came near us or showed any interest in us. Agnes was not well and feeling absolutely blue. David, the boy we brought, was homesick and I went to bed every night feeling that I hated the place and saying to myself "What a fool you have been to spend your money on this place". But gradually we got the library and the kitchen in order and they both looked so nice that we began to feel more cheerful."
Retirement Home
Mary spent the summer months and possibly Christmas at the old home. When she retired from Nursing in 1940, she moved permanently to Acacia Grove, along with her two sisters Louise and Agnes and their friend Louise Romans. In 1941, according to the Acacia Grove guest book, all three sisters and their friend Miss Romans wrote their residence as "Acacia Grove". The four women lived together there, hiring a gardener and household help as needed. They hosted garden parties and welcomed many visitors for tea, including such notables as Lieutenant Governors of Nova Scotia, folklorist Helen Creighton, and, of course, friends and family. The sisters also welcomed two young girls (Sheila May & Bronwen Burr) from the Roedean Girls' School in Brighton, England. They were attending Edgehill School for Girls in Windsor due to the war in Europe and would spend their off-time and holidays with the sisters at Acacia Grove. The war also meant entertaining officers and military men at the behest of the West Nova Scotia Regiment in Aldershot. 
A Gift to Nova Scotians
In 1967, it was suggested to Mary that she approach the province to see if they would be interested in taking over the home after her death. Mary passed away in 1969, with the agreement that any sister surviving her would be allowed to live out their lives in the house. Louise, the last sister, passed away in 1971, after which the province obtained the house and land, as well as their contents, to add to the family of the Nova Scotia Museum. It officially opened to the public in 1973.