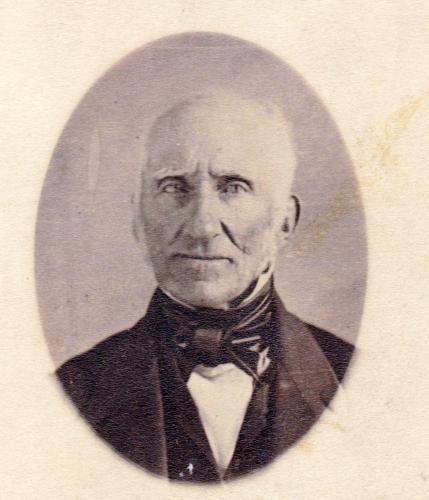 Charles Ramage Prescott was a native Nova Scotian. Born in Halifax in 1772, he was the son of Jonathan Prescott and Anne Blagden. His father, Jonathan, was born in Massachusetts and came to Nova Scotia as a surgeon and engineer in the siege of Louisbourg in 1775. He settled in Chester where he was given a land grant and later moved to Halifax.
Charles Prescott became a prosperous merchant in Halifax and retired, possibly due to ill health, after amassing a moderate fortune.
In 1811 he purchased land in Starrs Point and began construction on Acacia Grove, one of the finest examples of Georgian architecture in Nova Scotia. The house was completed around 1816 and became home to Prescott, his second wife Mariah Hammill (his first wife Hannah Whidden died before the house was completed) and the Prescott children.
While in Starrs Point he served as a member of the Legislature for Cornwallis Township from 1818 to 1820 and on the Legistlative Council from 1825-1838. However his fame lies in his work in horticulture and his contribution to Nova Scotia's apple industry. He introduced over 100 apple varieties to Nova Scotia, by grafting scions brought from Upper Canada, the United States and England onto local rootstock. Those varieties that thrived in the Nova Scotian climate were noted and generously shared with local farmers.
The property also boasted a hothouse in which grew exotic fruits such as grapes, peaches, apricots, nectarines, cherries and melons. There were orchards, stables, barns and formal shrubberies and flower gardens. Acacia grove was a true showplace and praised by such notables as Lord Dalhousie and Joseph Howe.
"A full week might be spent to advantage in Cornwallis; indeed it would take a day to examine Mr Prescott's beautiful and extensive gardens, where every variety of fruit which the country will produce is blended with every flower, and where the perfection of modern horticulture may be viewed in successful operation."
Western and Eastern Rambles. Travel Sketches of Nova Scotia, by Joseph Howe, 20 August 1828
"By his example and aid to others, he probably succeeded in doing more for horticulture and arboriculture in Nova Scotia than any one man"
The Acadia Recorder, June 18th, 1859, page 3, obituary
"He spared no pains or expense to get the best and most approved sorts of apples, pears, plums and other fruits that could then be imported from the nurseries of both the old and new world..."
Nova Scotia Fruit Growers Association Annual Reports 1883-1890