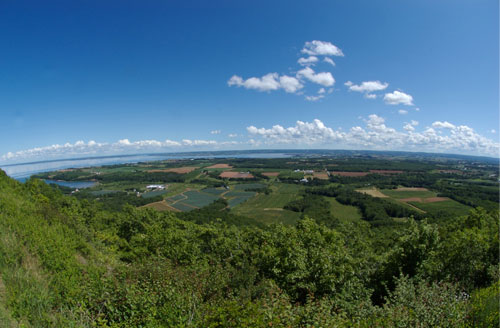 The Annapolis Valley...so much to see and do!
Located along Nova Scotia's Bay of Fundy, the Annapolis Valley boasts some of the best soils and climatic conditions in eastern Canada. The region is recognized as the 3rd most important fruit growing area in Canada, and is noted for its high tides, orchards and vineyards.
The area is also rich in history. Some 400 years ago, early settlers established their forts, farms and fishing villages along the coast and in the Annapolis Valley.
Kings County is located in central Nova Scotia on the shore of the Bay of Fundy with its northeastern part also forming the western shore of the Minas Basin.
The part of the county residing in the Annapolis Valley comprises the agricultural heartland of the province and boasts over 600 farms; the area is famous for its fruit crops, primarily apples. As with most coastal parts of the Maritimes, Kings County's shoreline was home to a productive shipbuilding industry during the 1800s.
Wolfville houses the highly ranked Acadia University. Cape Blomidon and the North Mountain preside over the Annapolis Valley, whereas the South Mountain and interior forests to the southern part of the county support a variety of lakes and recreational cottaging areas.